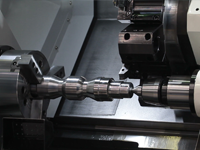 What is turning?
Lathe is a machine tool used to extract metal from a workpiece to give it the desired shape and size. A lathe is typically used to remove excess material from a particular workpiece to bring the material into the desired form. Lathes are generally used in metalworking and metal spinning. Turning is one of the most important metal removal methods in manufacturing technology.

Cnc lathe
Computer numerically controlled or CNC lathes are most commonly used as they are fast, accurate and the most advanced type of lathe. On CNC lathes, the material being processed is cut slowly, resulting in a beautifully finished product or a complex part. CNC lathes are at least capable of operating the cutting tool on 2 axes called X and Z under g-code control. They can also have a significant amount of other functionality and there are many variations on lathes.
How does the lathe work?
A typical lathe consists of a bed, support, tailstock, chuck, tool turret, carrier and a feed spindle. As a lathe rotates the workpiece in a spindle, a stationary cutting tool approaches the workpiece to cut and separate the chips. Due to this geometry, lathes are ideal for parts that have symmetry around some axes that can be clamped in the spindle.

Basic turning capabilitiesMinister
Confrontation happens when you remove metal from a cylindrical workpiece, usually creating a smooth surface.
Rotating

Turning is when a turning tool is applied to the workpiece to create grooves, ridges, and recesses.
Boring
Drilling is when you enlarge an existing hole. The hole can be drilled, molded, cast or forged.